Staying Safe During the Holiday Weekend
Heading into Labor Day weekend, our SHS nurses ask families to be mindful of the choices you make to prevent spreading illness among the Stevenson community and the community at large. Local rates of COVID-19 increased in Lake County after both the Memorial Day and Fourth of July holidays. We encourage everyone to celebrate responsibly and take proper precautions to prevent a similar surge. You can do your part by:
Avoiding crowds and limiting the number of individuals you contact
Watching your distance, keep six feet or more apart from others
Wearing a mask, especially when you are unable to keep a distance of six feet
Gathering outside whenever possible
Washing your hands frequently
Not sharing food, beverages, and utensils with individuals outside of your family
Avoiding hotspots and recreational travel to areas with higher rates of COVID-19
Engaging in high-risk activities may potentially limit students' ability to come to campus to participate in sports, clubs and other in-person activities for two to four weeks.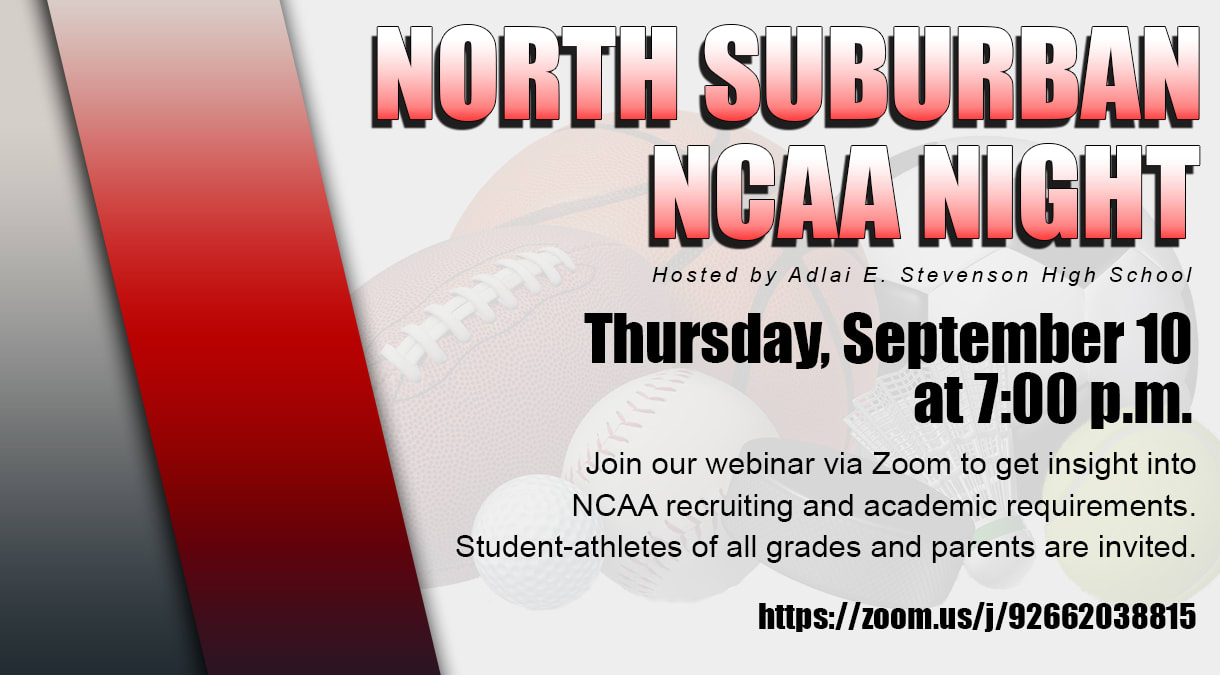 Community Presentation for Student Athletes
Student-athletes who aspire to play at the collegiate level, and their parents, are invited to attend the North Suburban NCAA Night at 7 p.m. on Thursday, Sept. 10. During this virtual session, Stevenson's post secondary counselors will be joined by Jackie Slaats, vice president for Career Advancement & Athletics at Lake Forest College and Anthony Gliffe, former athletics specialist at Lewis University, to provide attendees with insights about the NCAA's academic requirements and recruitment process. A Zoom link for Thursday's event can be found here. Students of all grades are welcome to attend. Advanced registration is not required.
Patriot Parent Program Offers Resources for Parents
Join Mara Grujanac, parent engagement coordinator, and Molly Gosline, social emotional learning coordinator, for the following Patriot Parent Program events. Each 30-minute session will focus on different ways parents and guardians can help support student growth. To attend an event, please use the Zoom link provided.

Staying Connected to Learning: Canvas, Interactive Report Card and Infinite Campus
Tuesday, Sept. 8 at 6 p.m. - Zoom link
During this session you will learn how to help your student with class management in the Remote Learning+ environment.

What is Social Emotional Learning?
Wednesday, Sept. 9 at 7:30 a.m. - Zoom link
Join SHS Social Emotional Coordinator Molly Gosline as she shares tips for supporting social emotional learning (SEL) competencies at home.


Talking About the School Year - Working Through Expectations
Thursday, Sept. 10 at 4 p.m. - Zoom link
During this event you'll explore ways to help your student build strategies for success in the Remote Learning + environment.

If you have questions about the Patriot Parent Program, please email Mara Grujanac.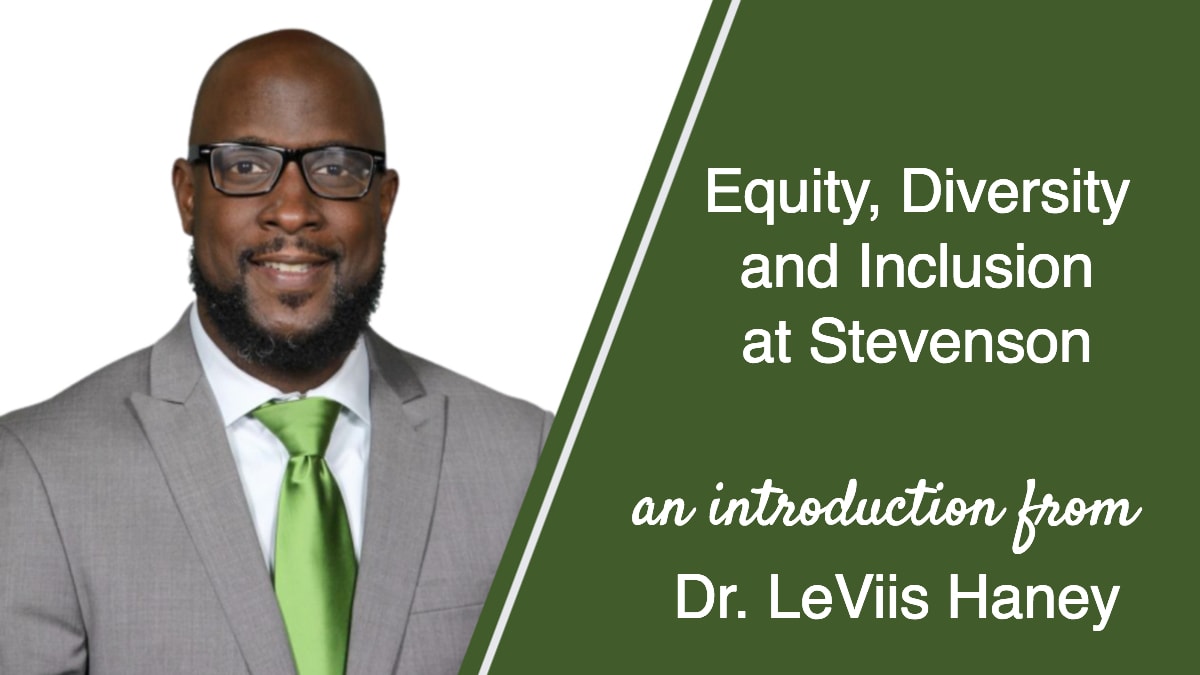 A Note From Dr. LeViis Haney
Hello Patriots,

I am thrilled to be serving as the new Director of Equity, Diversity and Inclusion for SHS! My role will center on supporting the school in its commitment to removing barriers to equity, access, and inclusivity for all of our students. To that end, my work will include making important decisions related to revisions of school policy and procedures; supporting the professional learning of faculty and staff; guiding insights into practices related to teaching and learning; advocating for students from diverse backgrounds; collaborating with the administration to recruit, hire and mentor additional faculty of color; and evaluating and advising on changes to ensure that Stevenson's school culture promotes the values of diversity and inclusion.

Along the way, you can expect to receive regular updates on the initiatives that will come out of this department, relevant articles to aid in providing our students with support and invitations to information sessions and events.

Sincerely,
Dr. LeViis Haney
Director of Equity, Diversity and Inclusion

Dr. Haney's hiring was featured earlier this week in a Chicago Tribune article.
The Importance of SEL in Remote Learning+
Stevenson's Social Emotional Learning (SEL) Coordinator, Molly Gosline, will share regular reflections during the school year in the Minuteman. You can follow Molly on Twitter for more information about SEL at Stevenson.

Stevenson's commitment to integrate social and emotional learning (SEL) in curriculum, instruction, and assessment is more important than ever before. As we engage in Remote Learning+ this fall, our faculty are collectively implementing strategies to build positive relationships, create a sense of belonging and help students develop SEL competencies to support their learning. In partnering with families around SEL, we hope to provide the most comprehensive support for our students during this unprecedented time in education.

So how can you practice SEL at home? Here are some tips that families can follow:
Take care of yourself and each other. Healthy eating, exercise, and sleep can cultivate opportunities to engage in conversations about what self-care means and looks like.

Establish routines. Routines and structure will help to keep everyone in the home on track to accomplish daily goals.

Practice critical listening. Your student may be presenting attention-seeking behaviors when what they really want is to talk and be heard.

Talk about social skills and emotional intelligences daily. Model how are you checking in with your stress levels or emotions.

Celebrate what you can. We all need some positivity these days, and encouraging our youth to find reasons to celebrate offers a sense of hope and possibility.
Additional strategies for building SEL competencies while learning from home can be found here.

Completing the Daily Health Check
Please remember to complete the Daily Health Check screening if you will be entering the building or interacting with faculty, staff or students. Students participating in sports, clubs, or other in-person activities should be prepared to have their temperature taken and show through the Daily Health Check app that they are approved to be on campus.
Non-Attendance Day Monday - Labor Day
Classes will not be held Monday, Sept. 7 in observance of the Labor Day holiday. Classes will resume Tuesday, Sept. 8.
Adlai E. Stevenson High School District 125 | 1 Stevenson Drive | Lincolnshire, IL 60069