Communications Team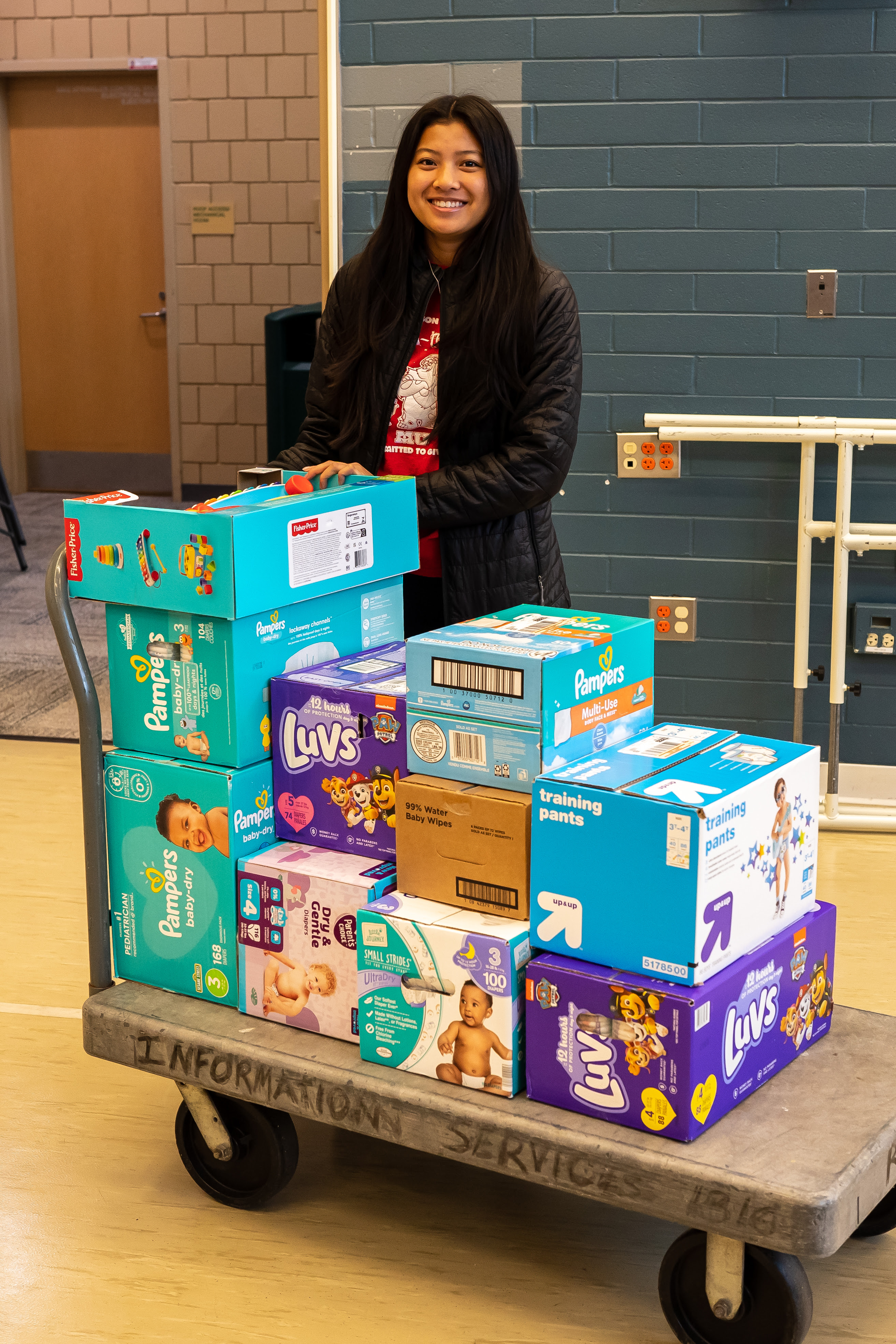 If you like candy, you may have run into junior Devin Singh over the last month. He was really hustling around the school to sell as much candy as he could.

"I did that because I think a large part of it was that I wanted to give back to my community," Singh said. "It's impactful and a lot of us enjoy spending time with each other knowing that we're doing good for the people around us."

Singh, a member of National Honor Society, sold candy to help raise money for the family that he and his classmates were assigned to for Stevenson's Give-A-Thon holiday fundraiser, where gifts and food and household items were purchased by students and faculty and staff, collected in boxes around campus and then distributed to three locations around Lake County.

Wednesday was Give-A-Thon's big finale: Delivery Day...and Singh and other members of National Honor Society made in-person deliveries of all the goodies to Catholic Charities Warehouse in Libertyville, St. Mary of Vernon in Indian Creek and Vernon Township Food Pantry in Buffalo Grove.


"It's a really nice thing to do. I'm excited to be here, knowing that I'm helping families in need to have a good Christmas," senior Lila Brandwein said while unloading gifts at the warehouse in Libertyville. "We've got a lot of things they can really use and that will benefit them."

There were all kinds of donations: gifts such as toys and bikes, food such as macaroni and cheese and soup, and baby items such as diapers and wipes.

"The aura at Stevenson changes as you go into the holiday season. There's this giving spirit that comes around," senior Nicole Lee said at the food pantry in Buffalo Grove. "It's wonderful to see students think of such creative ideas when they're trying to raise money for people in need in Lake County."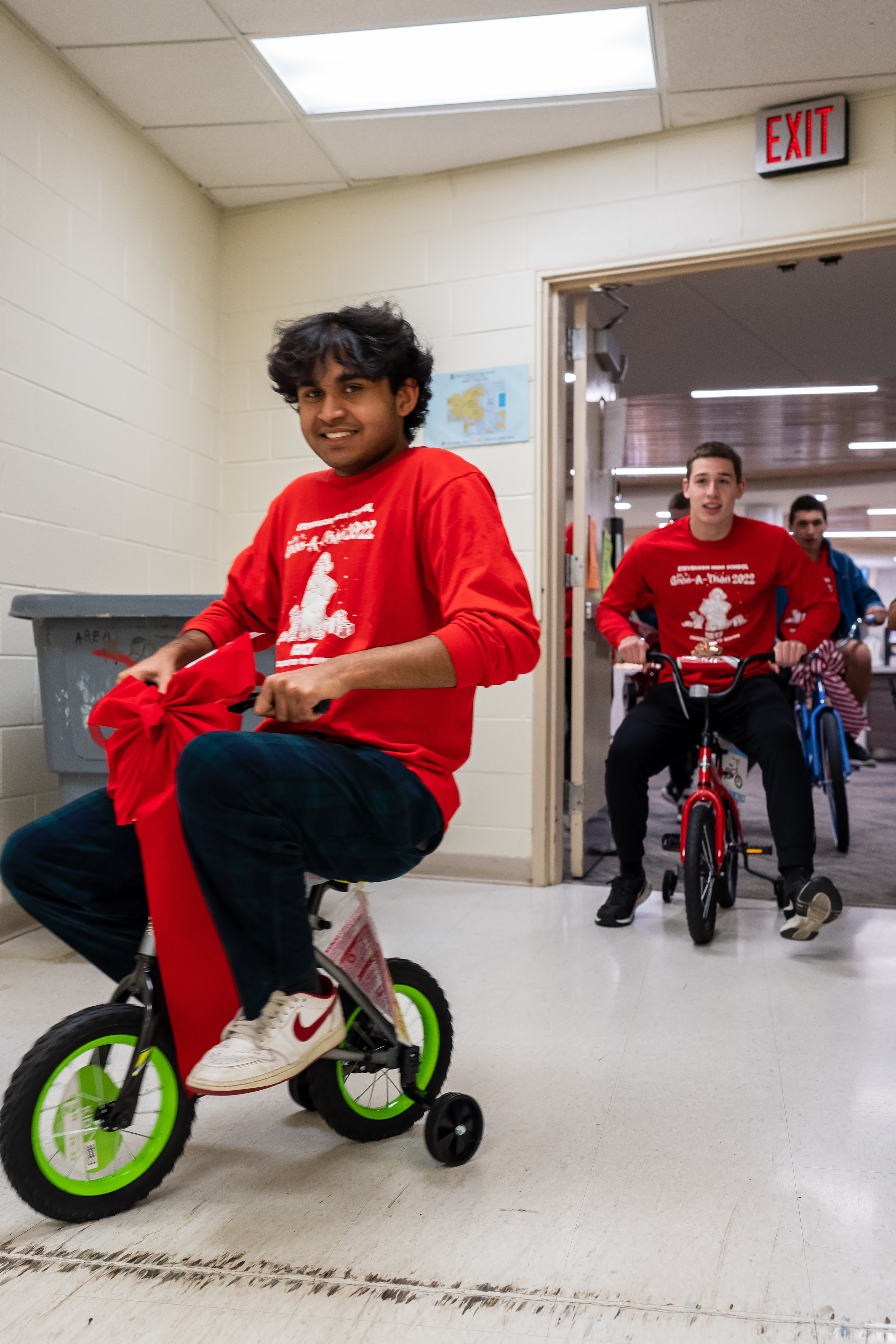 While some students like Singh sold candy and other items to raise their money so that they could shop for their families' wishlist items, others started GoFundMe pages so that they could raise enough money to get big-ticket items such as bikes. A total of 67 brand-new bikes were donated by Stevenson's Give-A-Thon.

"It's the reward you feel internally. It's so nice seeing all the gifts distributed and to know that you were able to be a part of that to provide things to people who aren't as fortunate as you," junior Aafreen Nazimuddin said while eating lunch at St. Mary Of Vernon. "I feel like the Stevenson community is really big on giving back and helping others. Christmas is one of those holidays when everyone loves to give, so this is something that everyone looks forward to."

Between 600 to 700 student leaders at Stevenson helped Give-A-Thon set record numbers this year. Typically, Give-A-Thon sets out to help between 300 and 350 families.

"We have more than 400 families that we are able to serve. And it's close to 1,300 individual kids who will be getting gifts this year," said teacher Courtney Zabrin, sponsor of National Honor Society, which runs Give-A-Thon. "My favorite part about it is that obviously we're giving back to our community but also, it creates a sense of community within the school. It brings students together and adults into the process as well. Students really work hard to come together to give back to our community."


Seniors Daniel Li and Hannah Yu are members of the Executive Board of National Honor Society and as leaders, were enjoying seeing Give-A-Thon push over the finish line yesterday, knowing that as a result of months of planning so many people would be helped.

"Finally being able to see everything come together is an amazing feeling," Li said. "Everyone is involved and it's something everyone can bond over and I find that so awesome."

"It's great to see all of the unity in our student body, especially on days like Collection Day and Delivery Day," Yu added. "We get to see all of our efforts come to fruition. It's good to see that what we do as a school community actually genuinely benefits people and that it really changes their lives."