Communications Office
When seniors David Kohan and Jonny Farber first met each other, swimming at the pool probably meant water wings and nothing but the shallow kiddie area.

"We were three," Kohan said with a laugh. "We grew up together, grew up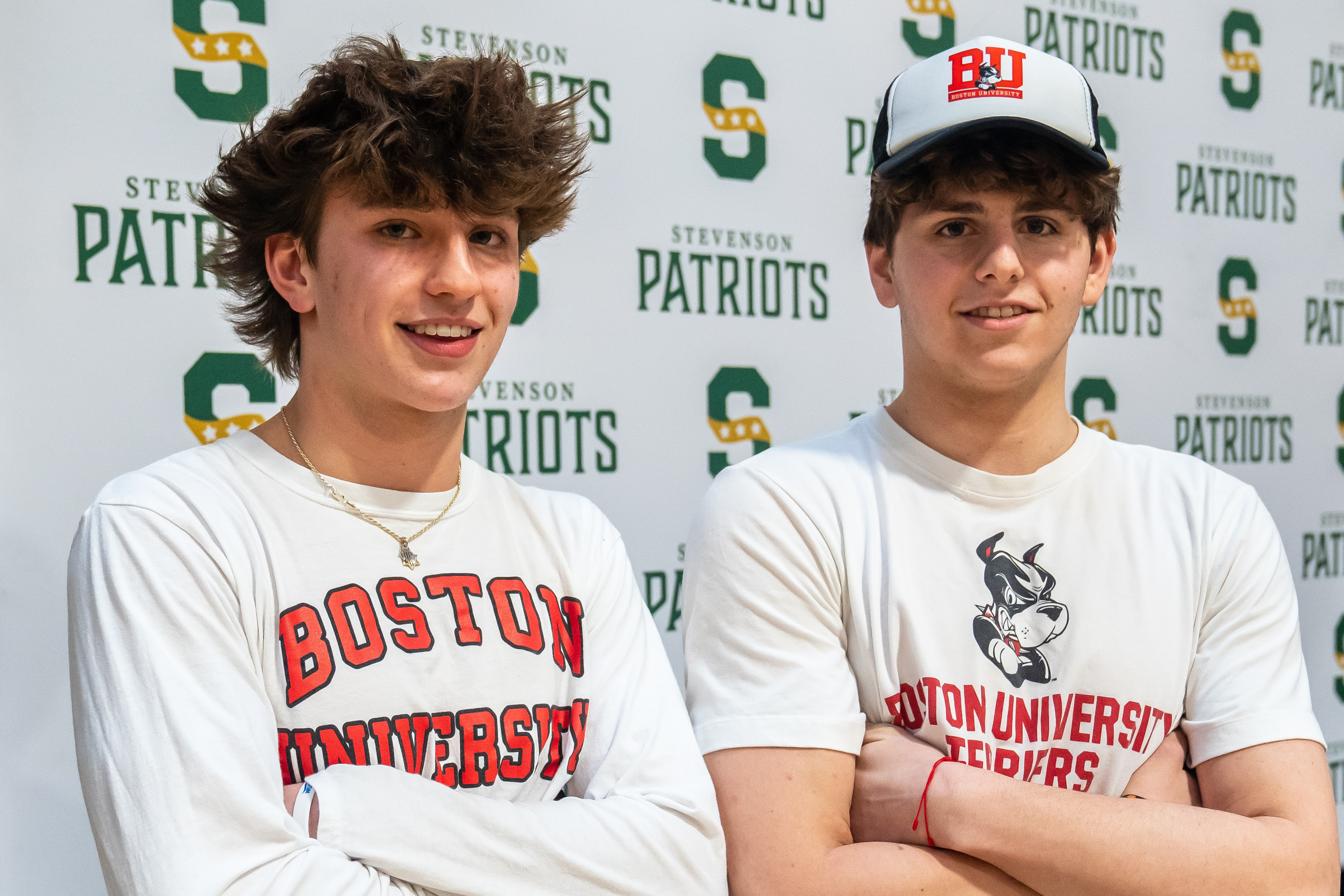 swimming together. We're really close. Our parents are really close, too.
"And we've been swimming together (competitively) for at least seven to eight years."

"Probably more," Farber chimed in.

And now…still even more.

Kohan and Farber (pictured above, left and right) will be continuing their nearly lifelong friendship and swimming connection far beyond the kiddie pool, and even past Stevenson.

The two signed their National Letters of Intent Wednesday afternoon in the Wood Commons as part of Signing Day at Stevenson, and across the nation…and they both signed on the dotted line to go to Boston University.

Kohan and Farber, part of group of seven Stevenson seniors who took part in the signing ceremony, say it wasn't intentional, that they didn't set out to be a "package deal" at any particular college, but that they aren't surprised that their paths are intersecting once again, especially through swimming.

Now, they're planning on being college roommates.

"We were getting recruited by a bunch of schools, some different schools," said Farber, who specializes in freestyle and backstroke. "But we both wanted to choose a great academic school and program so we visited Boston together and we just fell in love with the team and the school and the campus. And we decided 'Why not (go to the same school)?'

"Swimming is a really hard sport mentally and physically. It's really easy to get down on yourself and having someone you know so well next to you is a really big deal. It will help me a lot."

What also helped Kohan and Farber with their recruiting was the extraordinary success of last year's boys swim team. The Patriots won the IHSA state championship, the program's first in school history.

"In swimming, if you come off a great season, especially winning state, it factors a lot into recruiting and it does put you on the map with college coaches," said Kohan, a sprinter in freestyle and butterfly. "They're looking at that and they're looking at leadership. It's a big deal."



Kohan and Farber weren't the only Stevenson swimmers to turns heads at Boston University. Interestingly, senior Milena Busma signed her letter of intent yesterday to swim for the women's team there. (All three ~ Kohan, Busma and Farber ~ are pictured left.)

A coincidence…yes. But one that Busma, a specialist in the butterfly who is competing at state this weekend, is elated about.

"I didn't have a lot of communication with the boys about Boston. I did have some other schools I was talking to but in the end, I felt like Boston was going to be the best place for me and my home for the next four years," Busma said. "But it's such a great coincidence because I'm really excited to have these boys as teammates for the next four years. For the next four years, I think we'll probably be practicing together in the pool every day. I'm so excited that I can be best friends with them all through college."

Like "the boys," Busma has been swimming for almost as long as she can remember.

"I started swimming when I was 6 years old," Busma said. "I never imagined that I would take it this far. Being a Division I committed athlete. Especially this early in senior year. I've been looking forward to this day. I'm just so excited."


Another Stevenson swimmer signed on the dotted line yesterday.

Michael Wywrocki, who swims the individual medley and the butterfly, made it official with Cornell University. (Wywrocki is pictured right with Farber, boys swim coach Doug Lillydahl and Kohan.)

"(The state championship) last year really helped me with my recruiting," Wywrocki said. "I dropped some really good 'best times,'which really helped me get noticed by coaches who invited me for visits and then I got offers. That really helped."


In addition to the swimmers, two golfers ~ Allie Santos and Jessica Velent ~ and soccer player Mimi Van Zanten also signed their National Letters Of Intent.

Van Zanten (pictured left) will be playing for Florida State, which is currently the No. 1-ranked Division I women's soccer team in the nation. Meanwhile, Santos and Velent leave behind quite a legacy at Stevenson to move on to Southern Illinois and Wisconsin-Whitewater respectively.

"They've had amazing careers here at Stevenson," girls golf coach Emma Degen said of Santos and Velent, pictured together below right. Santos is on the left, then Degen and Velent. "They are all-state athletes. And over their four-year careers, we are four-time conference champions, four-time regional champions, four-time sectional champions and we got first in state, had the COVID year and then were twice second at state.


"They are going to be huge contributors to their (college) teams, just like they have been huge contributors here."

Each athlete spoke during the ceremony, thanking their parents, their coaches, their teammates while reflecting on the momentous nature of the occasion. For most, signing on that dotted line reflected years of dedication and sacrifice.

"It means a lot," Kohan said. "We put in a lot of work, a lot of seasons and a lot of ups and downs and it's really great to finally be here and sign this piece of paper. It's amazing. It's always been a dream for me to swim in college. Now that it's finally happening, it's a great moment. I'm going to remember it for the rest of my life."